We are blessed with sunshine here in Central Florida for a large portion of the year. This means that there are a huge number of homes that include a swimming pool to enjoy during our almost year-round warm weather.
Whether you have an in-ground, above ground, open or screened pool, or even just planning on installing a new one, pool landscaping ideas are sure to be one of the topics that will be a high priority to make your pool area inviting and enjoyable. There are quite a few things to consider when planning or redesigning your pool area landscaping. Let us help you to be informed and pick the best plants from your Orlando landscape supply that will give you the look and feel you want to surround your pool.
Here are some things to consider before beginning to pick out what types of plants you want for your pool area:
What other elements will be involved? Structures such as patios, decks, gazebos or outdoor kitchens will need to be taken into account when making your overall pool landscaping design. Some people prefer to use plants to create a natural privacy screen or fencing. You can soften up a pool deck area by installing pavers separated by grass. Keep these in mind.
Pool areas can get humid fast. Depending on if your pool is full sun, shade or screened will also determine the amount of direct intense sunlight that can be extremely damaging to plants. Be sure to keep in mind the environment created around your specific pool and its features.
Chlorine and other chemicals can be splashed onto plants in and around your pool area. Be sure to choose hearty plants.
Determine the look you are trying to achieve. Decide on tropical, desert or whatever design style you like before beginning to pick plants and be sure to pick a variety that will complement your own style.
Stay away from falling leaves. This means avoid deciduous tress or those that lose their leaves and stick with evergreen or those that don't create too much debris. You don't want to spend your time scooping all that they shed out of your pool water. This can also cause changes in your pool chemistry and require the use of more chemicals.
Flowering plants tend to attract bees. Keep this in mind when choosing plants and consider using flowering plants further away from where you will be hanging out near the pool. They can offer color and scent from a safe distance.
First of all be aware that some of the plants listed here that thrive in pool areas can be equipped with thorns. They are beautiful and can be a great addition, just be sure to place them away from areas of high traffic to avoid injury to you or your guests. Also, growing a mix of flowering plants and foliage plants is a good way to reduce maintenance.
Some of the plants below we recommend as features to any pool landscaping. Be sure to buy local from and Orlando landscape supply!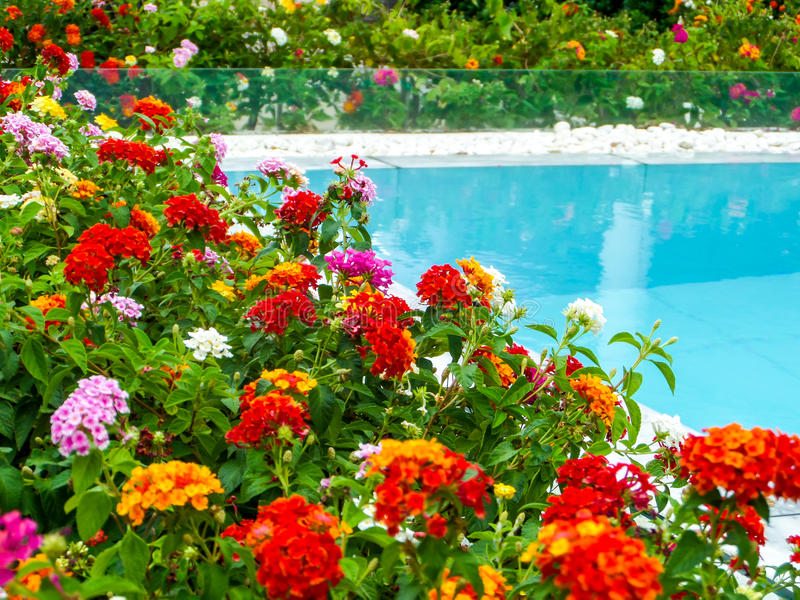 Lantana
Lantana is a good option that can withstand the heat. Your pool will reflect light and the areas around it will hot. Lantana is a tough and low maintenance plant that can tolerate it all. While some flowers may drift into the pool, they are overall pretty clean.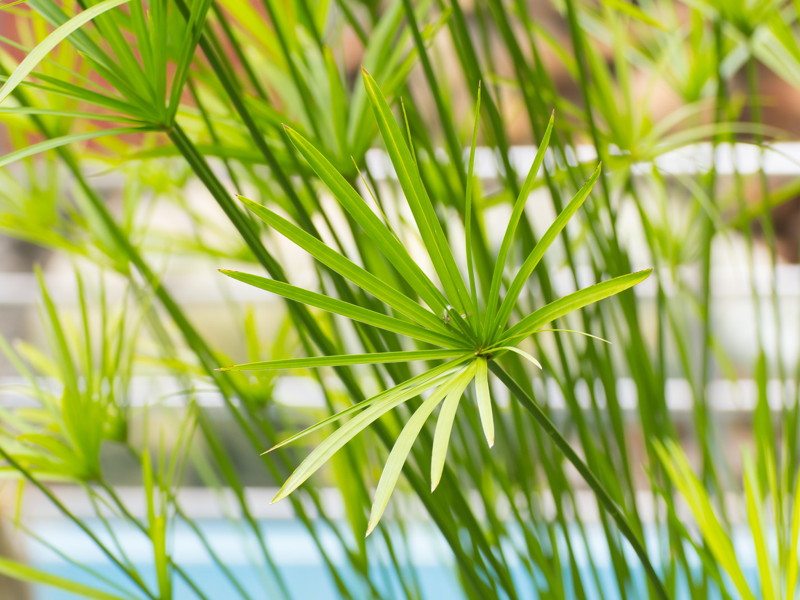 Egyptian Papyrus
These water loving plants can grow in bogs and shallow ponds and can be a great addition to your pool landscape where all the water gets splashed. They will love it. You can create an exotic and tropical oasis around your pool by incorporating these into the landscape.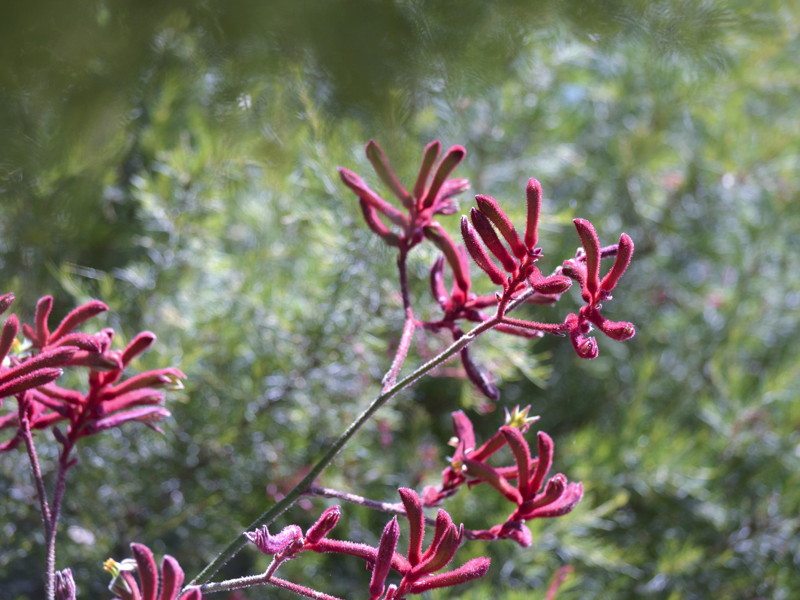 Kangaroo Paw
This stunning plant is perfect for around the pool. They are drought tolerant, can take the sun and come in a variety of amazing colors. This one will certainly be a head turner.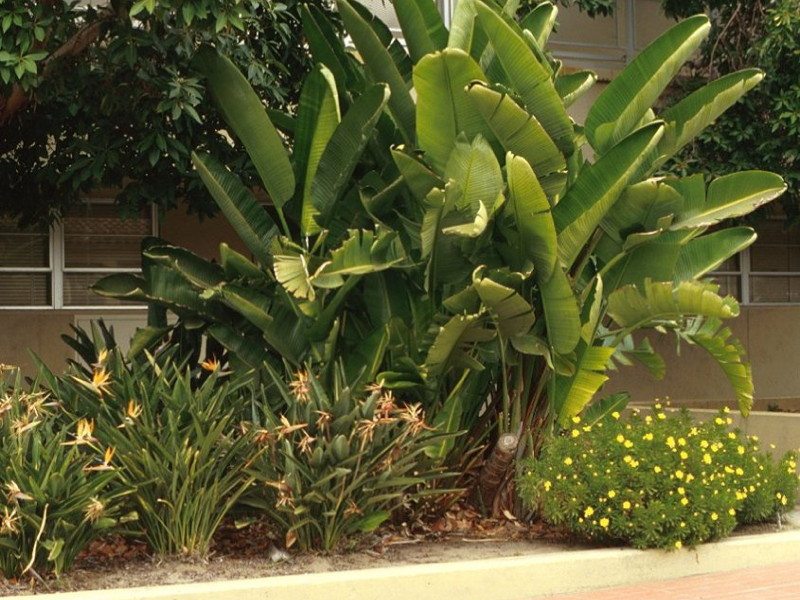 Giant Bird of Paradise
These plants will immediately make your pool area a tropical escape. They quickly grow very tall with leaves growing up to 5-10 feet long. These will need to be planted near a wall or fence as those large leaves are fragile and can be easily ripped and tattered by winds. This picture shows a large Giant Bird of Paradise planted with small Bird of Paradise plants. This creates a great focal point and the smaller plants have vibrant colors to add to the design.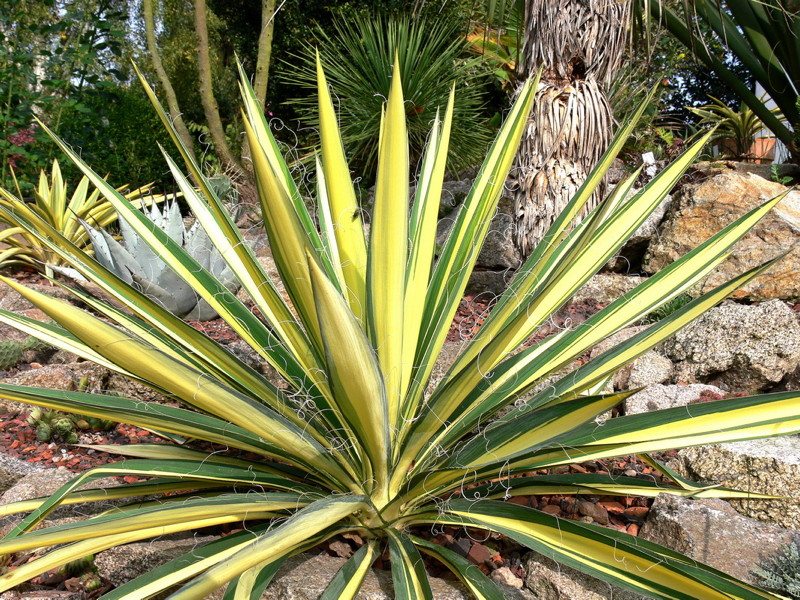 Yucca
The Yucca plant is another perfect pool area plants. These will offer low maintenance as they don't bloom and are extremely heat tolerant. They come in a variety of greens and yellows that will keep that tropical feel. These are actually a desert plant.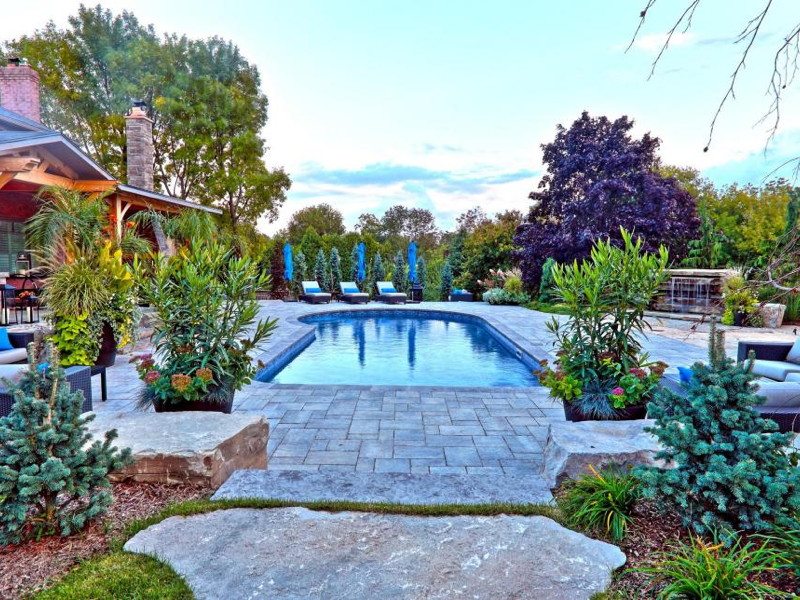 The plants above are just a small sampling of what you might find to add to your pool landscaping. You can check out others in this great sample from Structure Studios in Nevada. They tell you not only some of the best, but also some of the worst that you want to avoid. They may not have the humidity we have, but they sure have the heat!
Remember that whatever you decide to plant in your pool oasis, be sure to arm yourself with some knowledge and consult your local Orlando landscape supply professional for any help you may need along the way.