Now that the Thanksgiving Holiday has passed, many of us have started the process of decorating for the Winter Holiday Season. Once your Christmas Tree is up and the stockings have been hung or your Menorah is ready for lighting and you have Gelt out ready to spin the Dreidel, you might want to think about bringing your Holiday spirit into the outdoor areas of your home as well. Most people put lights up on the exterior of their home, but you can expand on the lights and add some wonderful décor to your porches, patios and landscaping.
There are many ways to incorporate the Holiday Spirit into your outdoor décor. Let us help give you some tips and tricks with these Outdoor Holiday Decorating Ideas! One of the best ways to bring your Holiday décor outside is to decorate around your front entry or porch and any rear porches or patios. There are many different ways to do this beyond a few potted Poinsettias! Here are some great ideas:
Wreaths! You can create wreaths from many different types of material such as live garland, burlap, large Christmas ornaments, etc. Magnolia wreaths are popular here in Central Florida and can add a beautiful, high end feel to your front door décor. HGTV offers a great DIY Magnolia Wreath design. Consider using multiple wreaths as well. You can hang together vertically on doors, chimneys, or even on porch columns.
Garland! Be sure to line doorways, porch posts, ledges or mantels with garland, even outdoors. You can add touches of poinsettia leaves, lights or ornaments to add some spirit. A nice option for Central Florida is live garland. Available at some Orlando Landscapers or wholesale locations, live garland is a wonderful touch to your outdoor landscaping as a live plant during the Holiday Season.
Outdoor Christmas Tree! Many of us have our largest decorated tree indoors to put gifts under. We are fortunate her in Florida to continue to our Holiday celebrations outdoors. An outdoor tree is a great idea to enjoy on a porch or patio, especially if you entertain frequently in that area. It is also a clever idea to use your outdoor tree for gifts for your pets or gifts for your yard such as bird feeders, bird seed, outdoor products or tools. You can open gifts in two different areas and enjoy more of your home. If you are celebrating Hanukkah, you can add outdoor Menorahs and create a tradition of lighting inside and out every night.
Flannel and Plaid! You can add flannel or plaid pillows and throws to your outdoor furniture, tie plaid scarves around mailboxes and porch posts, even your front door knob. These add coziness and warmth to any outdoor décor. Other materials to add to your décor would be burlap, ribbon or any extra touches of red and green. Incorporate these into your outdoor areas to add just the right touch of Winter. Even here in Central Florida, it will remind us of cold winter nights with cocoa by the fire.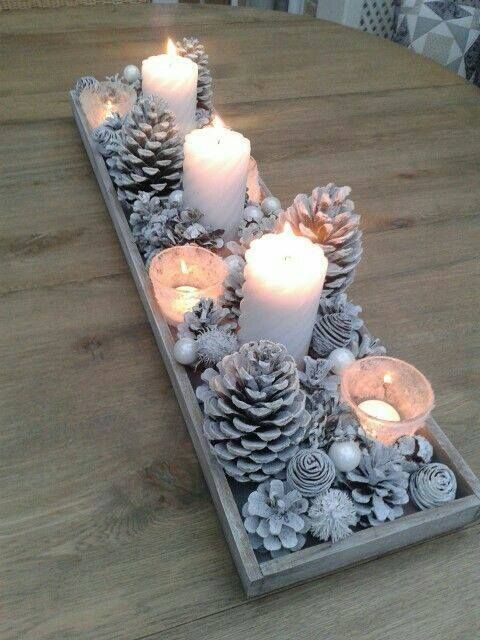 Pine Cones! These can be added to decorative vases and containers to add the touch of the Season. You can add ornaments, surround candles or even make mini decorative trees. You can paint white, gold or silver and mix together to create a nice arrangement. Something about Pine Cones says the Holidays are here!
Let it Snow! You can hang snowflake cutouts or apply decals to windows to enjoy from inside and outside. You can hang painted versions to tree branches outdoors too. Adding a touch of glitter will catch the light from both sunlight during the day and any lights you have illuminated at night. You can also use artificial snow materials to mound around doors, steps and on porches to simulate snow heaps up North. This will add the Winter touch to your outdoor décor.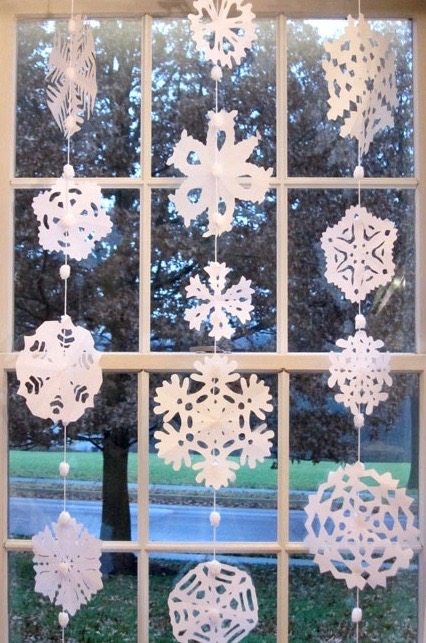 Other Holiday Touches include large wooden Nutcrackers, Giant Candy Canes, Large Ornaments/Dreidels and Light Up Gift Boxes that can be added to porches, entryways and patios. Incorporating a few or all of these suggestions can make your outdoor space just as festive as your indoor decorations.
In addition to decorating your entryway, porches or patios, one of the best things you can do is add Holiday touches to your Central Florida landscaping. Here are some great ways to do just that:
Lights! Be sure to add lighting to areas beyond your eaves and porches. You can add lighting to your shrubs, pathways and even outer lying trees. We are fortunate to have solar light options that can allow you to place decorative Holiday lighting into all areas outdoors.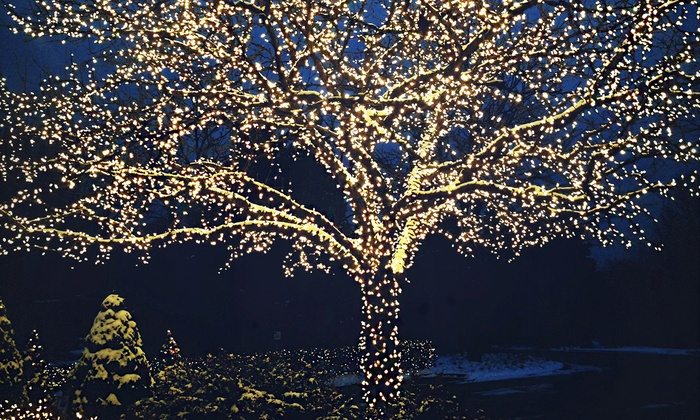 Plants! Add Holiday plants into your landscaping. You are not limited to adding the few potted Poinsettias to your porch and that's it. Expand Holiday plants into your yard incorporating them into your existing landscaping. Be sure to layer and light by using varied sizes planters and solar or fairy light to grab the eye and focus on your beautiful Holiday landscaping. You can use old metal buckets for planters, some perforated with snowflakes or snowmen that can be light from inside add a nice lighted décor without a lot of extra work. You can also use an old snow sled or red wagons to place different plants on and create a wonderful focal point to a flower bed or an area of your yard that you want to draw attention to. Be sure to also surround your mailbox with Holiday plants or adorn with a beautiful Holiday garland.
Here is a list of various plants that will add beautiful touches to your Holiday landscaping. Some are familiar and some might be surprising.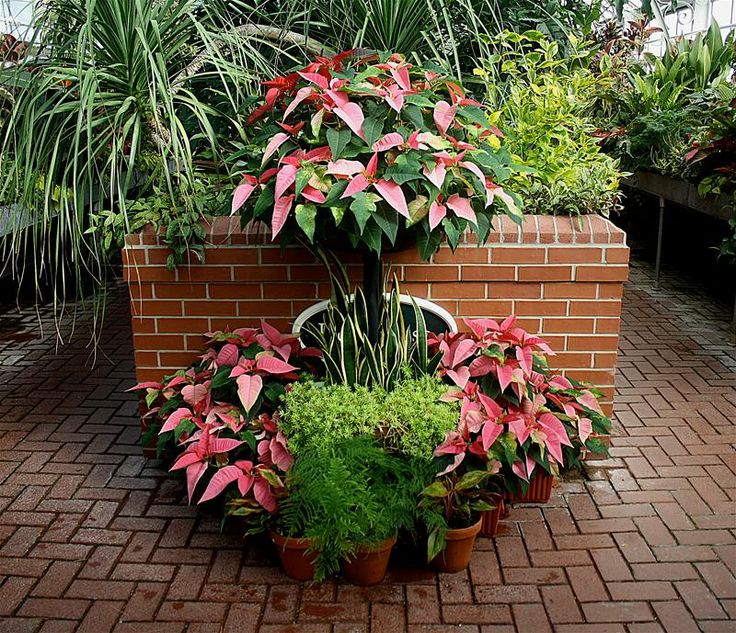 Poinsettias – Because they come in many colors and patterns, Poinsettias can be added in number to create a wonderful Holiday touch to any landscaping, even if you don't have a lush landscape.
Christmas Cactus – Because we are lucky to live in Central Florida, we can enjoy Christmas Cactus even outdoors. They love bright, indirect light so porches and patios are good spots for these beautiful plants.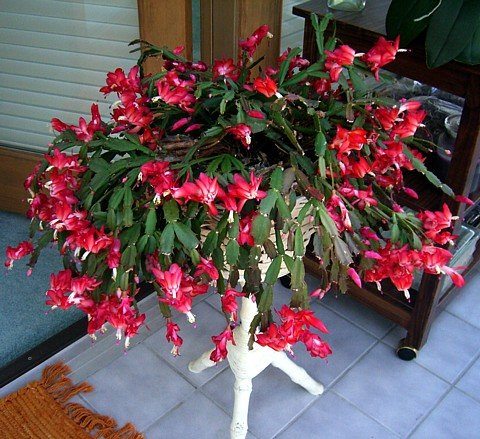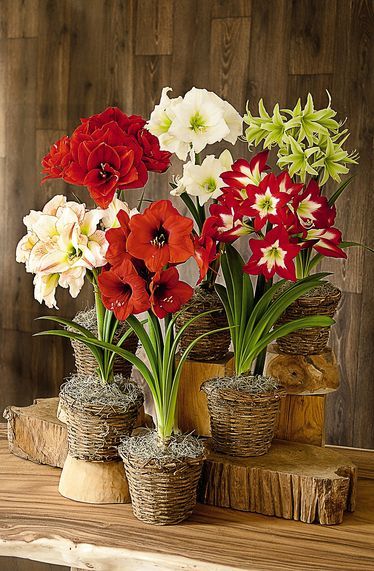 Amaryllis – A flowering bulb with large flowers, Amaryllis is a gorgeous addition to your Holiday landscaping. These come in solids and patterns as well, so they can create a wonderful variety of Holiday colors and are sure to catch the eyes of those that pass by your home this Holiday season. These blooms will last 7-10 weeks and you can always store unplanted bulbs for replanting.
Mini Evergreens – These mini trees are a wonderful touch for Holiday landscaping. They can be added with solar lights, bows, snowflakes, etc. within your existing landscape to add a wonderful Winter Holiday touch to your existing plants. These can also be recycled and planted later as border plants or outlying shrubs to enjoy for years to come.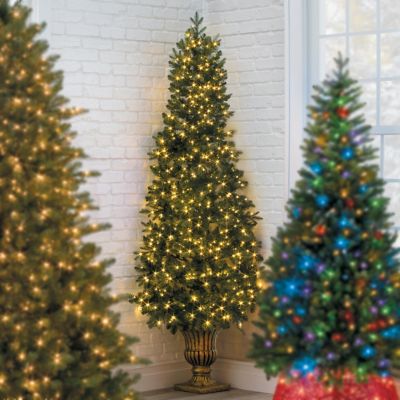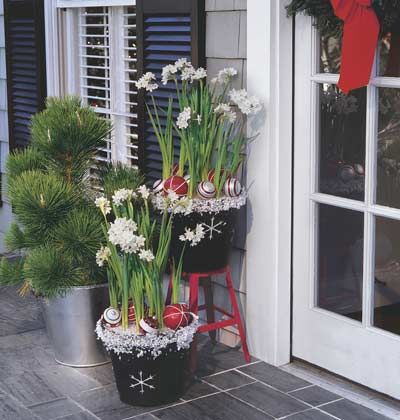 Narcissus – These are also a flowering bulb with many varieties and will bloom in Winter in the South. These are low maintenance and can be left in place to enjoy. While the bulb rebuilds, it will provide large green leaves.
Holly and Mistletoe – While these traditional plants add the Holiday touch, please be aware that they are poisonous and can cause illness to pets and small children. Unless you are sure of the exposure of these plants, we would not recommend adding to your outdoor décor.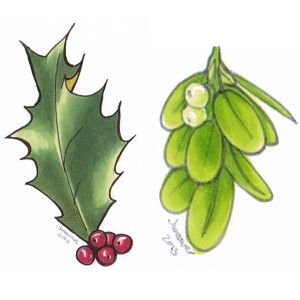 With all of these tips, tricks, and Outdoor Holiday Decorating Ideas, we hope we have added some serious motivation for you to extend your Holiday decorating outdoors. You will welcome the Season and your Holiday guests from outside to in and It can also help work off some of that Thanksgiving Dinner!