We are very lucky to live here in Central Florida where the weather is nice a large part of the year. This means that we can spend more time outdoors than most. Adding Landscape Lighting to your home can bring a multitude of benefits for relatively low cost, with an initial investment into a system, you can maintain a wonderful aesthetic to the exterior of your home that will rival the stars after sunset and create a wonderful environment surrounding your home for years to come. If you are considering Landscape Lighting for your Orlando area home, consider the following benefits.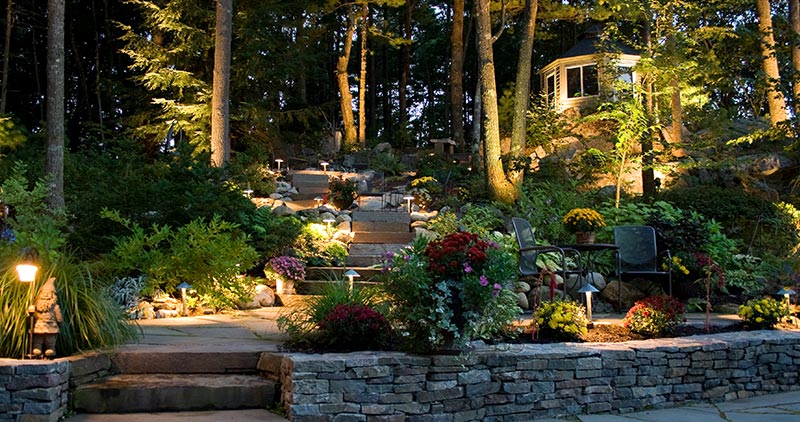 We take great pride in keeping our homes looking good inside and outside. Why shouldn't we enjoy the view in our yard at night too? Landscape Lighting can create a dramatic transformational effect to the exterior of your home. Depending on design and placement of lighting, you can create a stylish standout in your neighborhood. You can highlight the architecture of your home and special outdoor areas or create focal points of gardens or allow your favorite statues to draw the eye. Landscape Lighting can offer the presence of a well-cared for, warm, and loving home. There are many aspects of design and placement that should be well thought out when considering landscape lighting and planning your design. Uplighting, accent lighting, down light and even moon lighting are all options that can create different experiences. Be sure to do your research and consider using a local Orlando landscape company. Most are happy to provide a consultation.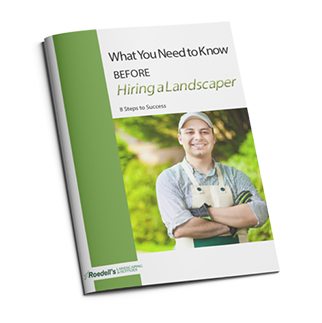 FREE E-BOOK!
"Things You Need To Know Before Hiring A Landscaper"
Learn What Questions to Ask • What To Look Out For • How the Process Works & More!
Extend Your Space
As we said before, we are very lucky to live in a sunny environment. You can literally double the size of your space and enjoy your outdoor living areas equally as indoors for a large part of the year. With well-placed Landscape Lighting, you can create an outdoor dining areas for family gatherings or fun cookouts, a nice sitting garden for an intimate glass of wine or a beautiful deck for gathering and entertaining guests. Adding landscape lighting can create a new dimension to your home and a warm and inviting way to enjoy your outdoor space long after dark.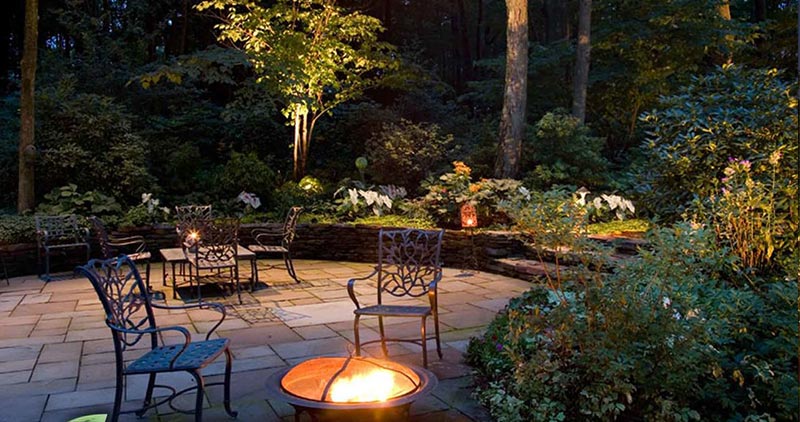 Safety and Security – Not the Same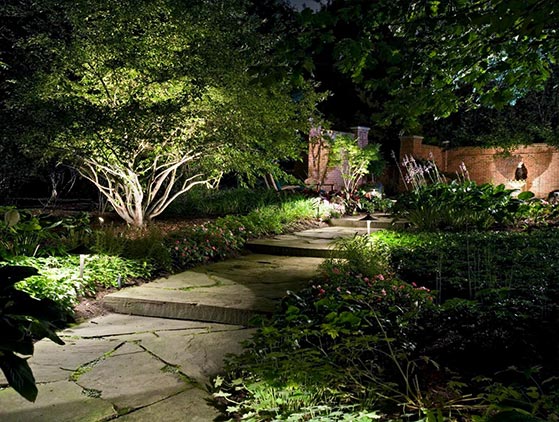 Safety
Outdoor lighting can enhance safety in a variety of ways. It can light walkways to lead to safe navigation for guests, it can illuminate darker areas of your yard for nighttime use, it can help to light seating areas around decks, pools, and patios where you may be getting up and down. You can minimize risks of slips and falls and tripping over objects in the dark.
Security
For security purposes, landscape lighting can deter potential criminals by eliminating dark spots and shadows when placed appropriately. Especially with shrubs and larger plants, the more lights the better. Height variety in your landscaping and different options of lighting will lead to an optimum combination in creating a beautiful yet secure outdoor space and perimeter to your home. Motion detection and spotlights to certain areas to enhance the security of your landscape lighting. A good lighting design also sends a message to passersby that you are present and active in lighting and maintaining the outdoor areas of your home. It usually extends to others around you when there is a sense of care and maintenance. Your neighbors know if you are looking out for your property, you'll look out for them as well and likely reciprocate.
Show Me the Money – Adds Value to Your Home
When someone is ready to buy a home, they look for small details and one important one is lighting. Landscape lighting in place and functional can be a big selling point. This is something that creates a nice environment immediately with no money or labor when moving into a new home. When scheduling open house showings, consider hours that continue after dark. Landscape lighting will impress potential buyers and show the additional outdoor enjoyment after dark. For a relatively small investment, lighting can be a big return when selling your home.