Does it Make Sense?
Since the internet has taken over more and more of our lives and with the introduction of Pinterest, Etsy and other sites, the DO-IT-YOURSELF desire has risen in more and more people. Understandably, there is pride and accomplishment in a job well done. Landscaping is no exception. There is a feeling of sculpting nature to your own design when your yard looks great! Sometimes though, things may be better left to the experts. Let's look at how to hire a landscaper and why it makes sense, or not?
Knowledge is Power
By far, the largest reason behind learning how to hire a landscaper is that KNOWLEDGE IS POWER. While there is a lot of DIY information out there, it would take literally years of research to harness the knowledge of someone that has years of experience in their field. Not to mention that there are multiple opinions and a multitude of differing advice given on subjects online. Just imagine, would you cut your own hair, fix your own water leak or attempt to rewire your house? Some may be brave enough, but for the vast majority of us, we call in an expert. Your lawn is no different.
A professional landscaper will have technical knowledge on things such as drainage, pitch, what plants work together, what type of landscaping works best with individual lifestyles. They know watering recommendations and which fertilizers to use and how often, and will also tell you if your dreams of a lush, tropical front yard in Minnesota just isn't in the cards and give you alternatives to create an equally stunning result.
Save Time
Other reason to hire a landscaper includes saving time. While some people like to do yard work and get a great sense of accomplishment from it, most do not have the available free time to commit to maintaining a beautiful landscape. Unless you are only mowing and edging, landscaping takes commitment and constant maintenance to ensure landscape success. After all, these are living, growing plants.
Access to Products & Equipment
There is also the access to better products and when needed equipment. Landscapers can sometimes actually save the consumer money because they can buy products in bulk, usually already own any necessary equipment. While you might think that a landscaper is an unnecessary expense and not worth the money, their knowledge and access to products can save you from a landscape disaster and having to start all over or that yearly DIY landscape project that ends up costing a fortune after renting equipment, buying plants and products and the hours and hours of time you didn't realize that go into planning and design before the first shovel hits the ground.
One last point here. Did you know that a beautifully landscaped yard can actually yield up to 150% return on investment? By increasing curb appeal, a good landscape design can increase your home's value and make it easier to sell down the road. Definitely a great reason to invest in hiring a landscaper for your home that could pay off for you later.
How to Hire a Landscaper
There are lots and lots of landscaping companies in Orlando. How do you pick one that is right for you? First of all, DO YOUR RESEARCH! While plumbers and electricians are required to have a license and maintain continuing education, anyone with a truck and a lawn mower can claim to be a landscaper.
It is always best to hire a local landscaper that can give you advice when needed that is pertinent to your climate and specific area. There are different landscaping needs within the same city and even neighborhood. Their knowledge usually far outweighs the employee at the big chain stores working in the garden department.
Do your online research and look at reviews, but better yet, contact the landscaper themselves with some questions. You will be able to tell if someone has vast knowledge from years of experience or is stuttering around your questions and not giving you straight answers. Any good landscaping company should be able to come to your home and review your project or maintenance needs and give you a detailed estimate or contract IN WRITING.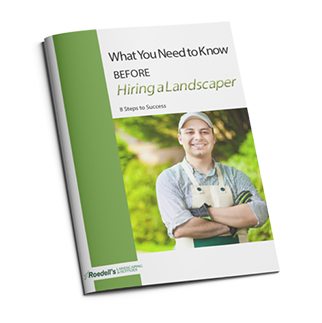 FREE E-BOOK!
"Things You Need To Know Before Hiring A Landscaper"
Learn What Questions to Ask • What To Look Out For • How the Process Works & More!
Ask for references that you can pick up a phone and call. We all like to stay anonymous behind our computers at times, but trusting someone that is going to be around your home on a regular basis is a big deal. It is worth picking up a phone and asking other clients about the job that was done, what they could have done better, ease of contact, did the phone calls get returned? Ask about the conduct of employees, cleanliness, and maintenance of vehicles and equipment, etc.
Also, ask the landscaper if they are licensed and insured and ask for hard copies. You can ask for a certificate of insurance indicating your specific address. This will give you peace of mind should an accident happen, and they sometimes do, on your property and take away the fear of having someone working around your house. Any professional landscaper will be happy to provide these things, as their reputation is a priority to them.
Be sure to follow these guidelines when considering landscaping companies in Orlando. Here at Roedell's, we pride ourselves on our experience and reputation and would be happy to assist with any landscaping needs you might have. Just request a free consultation. We are proud to maintain our "customer first" service attitude.