Using landscape rock is a growing trend in landscape design and an especially good one for Florida Landscaping. Florida's heat and daily rains are a breeding ground for weeds. Rock beds are easier to keep weeds away, easier to maintain than mulch and they look great for years. Creating rock gardens are also a great way to beautify and enhance those areas that grass just won't grow or are a great solution dealing with areas that tend to pool storm water. Using rocks in your landscape can really add diversity and interest to your landscape with all the variety of colors and textures you can get them in. However, there's more than meets the eye when choosing the right type of rocks for your project.
Let's look at the main types of landscape rocks and the considerations: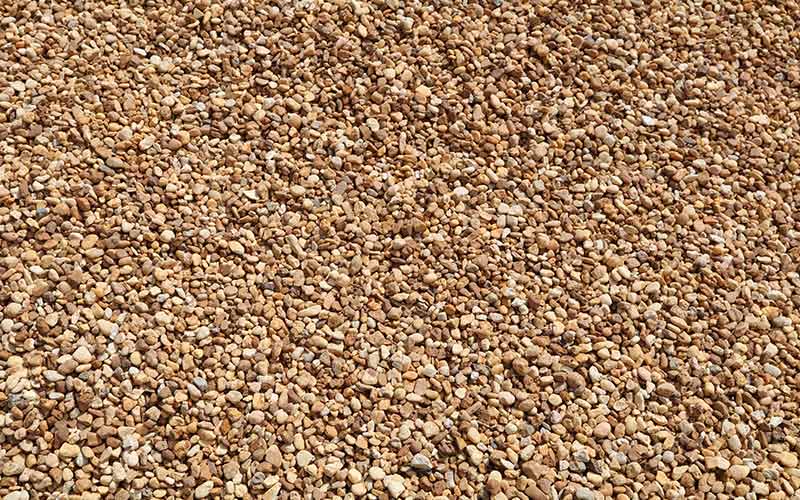 Pea Gravel is small rocks that are often referred to as pebbles. They generally have a smooth edge and come multi-colored. They are essentially the small fragments of rocks that rivers have plummeted into small pieces and polished up naturally.
Pea Gravel works well as a mulch replacement medium, especially in small areas. The natural tones make them a perfect color base to accent just about any decorative plants or even large stone focal points in your design. They also are perfect for large areas of ground cover, not to mention they are also easy on bare feet! However, when using small pebbles keep in mind you'll want to use solid edging. Without edging, pea gravel has a tendency to spread and get into the lawn or on concrete surfaces like driveways and side walks. Without good edging, you'll spend time sweeping or pushing the pebbles back into place.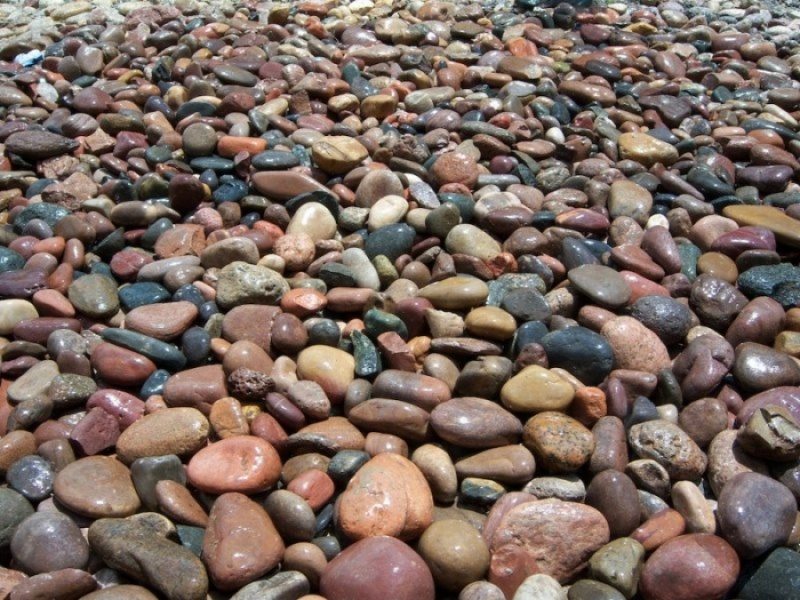 River rock is like the big brother to pea gravel. It too is generally smooth but is larger in size. They also have more distinction in color overall. You can buy river rock in different colors: white, black, brown or a mixture. Sometimes they even have a marble like look.
River rock is a great replacement for mulch in larger, more visible beds. Although smooth, the size varies enough that they are not so great on the feet. However, the colors can be used to really accent areas. River rock can not only set-off decorative plants but also compliment your house and the overall look and feel of your landscape design. River rock is one of the most popular landscape rock used by landscape designers because of its versatility color. It works great as accent borders, along fences and walls or around a fountain or a large feature boulder. One tip though is river rock can be very heavy to work with. I would look for a supplier that can deliver and make sure you have a solid wheelbarrow.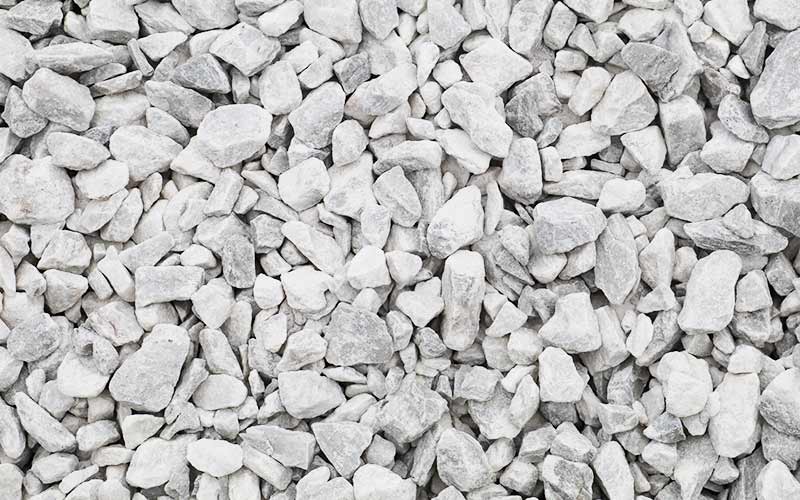 Chipped rock is about the same size as river rock but it is actually larger rocks chipped down to this size. They don't have smooth edges or have a polished look like river rock but chipped rock adds great texture to your landscape. Although you can choose from a variety of colors, it is usually sold in one color.
The most popular color for chip rock is white. You see it used a lot in Florida landscapes. The white color makes it a great base to set of flowery, colorful plants. It also works great in beds up close to the house or in pool areas. Just remember these rocks have some sharp edges so edging is important to keep them in place. Chipped Rock also makes for a great bed for low maintenance potted gardens, which works great for entryways like your front porch.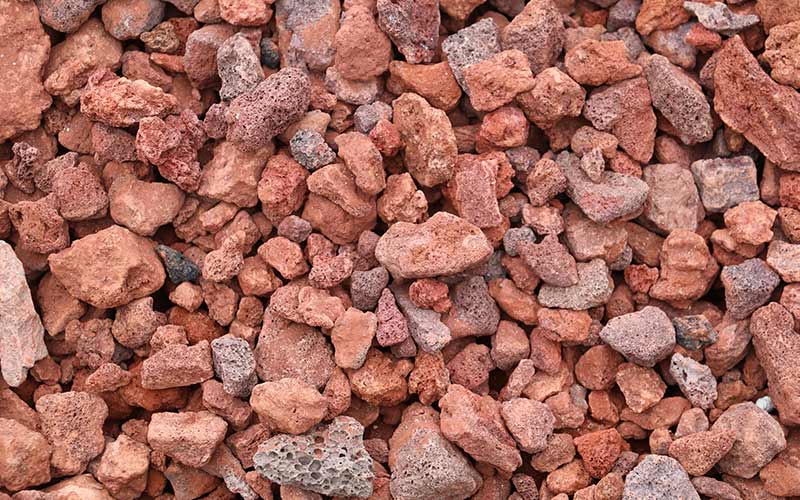 It's called lava rock because it is actually lava from volcanoes, just broken down into smaller pieces. It comes in a variety of sizes but doesn't have smooth edges. Lava rock is red and bold, making it great for accents. Lava rock is a great color tool when breaking up the typical green Florida landscape providing excitement and dimension to your landscape design.
Typically you wouldn't use lava rock to replace mulch around trees and shrubs but for larger areas. In specifically design spaces or along the front of the house. In the southwest desert areas of the country, it's used a lot as a base to create entire yards because grass doesn't grow. If you ever go to Las Vegas or Phoenix you will see a lot of yards based around lava rock.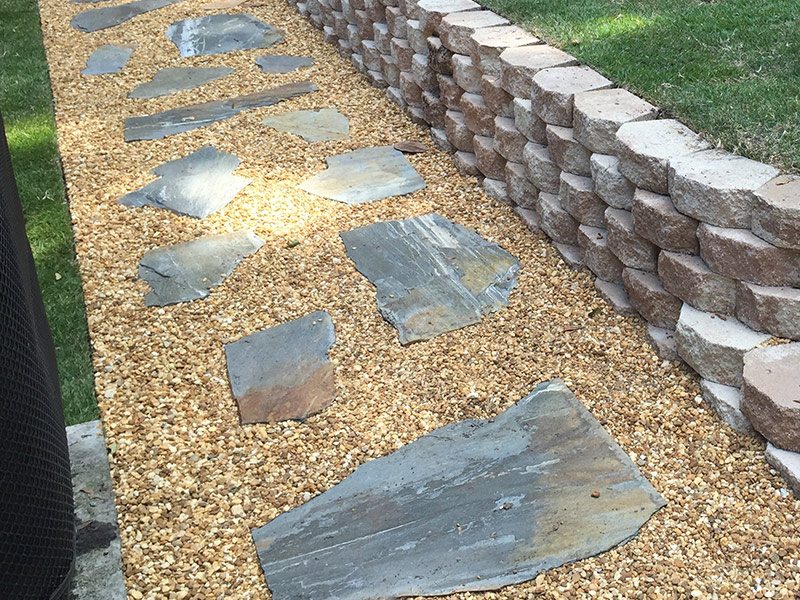 Unlike the other type of rocks we have mentioned so far, flagstone is not a replacement for mulch. It comes in much larger pieces of flat stone. It typically is available in a gray or brownish earth tone color.
Often you will see it used as stepping stone to build a pathway. Flagstone makes a great replacement to concrete sidewalks and attractive to use for well-traveled pathways through your yard so the grass doesn't get worn out. It's easy to install and maintain. You can even run a lawnmower right over them. They also work great for walkways through larger rock beds made of the smaller river rock or pea gravel. Flagstone also provides for beautiful, natural look small steps for those inclined areas of your yard. Flagstone also makes a beautiful natural looking retaining wall, but you will have to choose the right flagstone to use for that purpose and be able to cut or place the right pieces to make it work. I would recommend looking for a professional landscaper to help you build a flagstone retaining wall.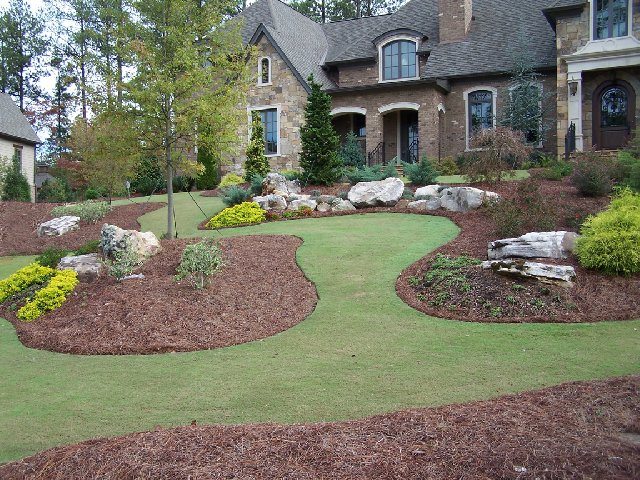 When we say "landscape rock" here we mean a big one! Boulders make for great anchor or center focal pieces for your Florida landscape design. Instead of a tree or large shrub under your living room window –  use a boulder! They are interesting and obviously pretty easy to maintain. You can easily design a rock garden or an array of plants around them. They come in all sorts of sizes and colors. They are also great to use for the corner of your pool enclosure. Of course, boulders are huge and heavy and not easy to move around, so you will have to use a bit of vision when selecting a boulder.