The weather here in Central Florida is finally beginning to match the calendar! As we usher in the season, you may want to consider adding some fall décor to your Florida patio to create an inviting environment to enjoy and entertain. Although these days don't last as long here as in other climates, we can look forward to cooler evenings and more time to spend outside basking in our wonderful Florida Fall combination of chilly weather and warm sunshine. Absolute bliss!
There are many things your can do on and around your back patio to add the touches of the season. For more ideas on how to incorporate Fall into your landscaping you can read our last blog. As for the touches of décor, they vary from the simple to the extravagant. Here are a few great ideas to get you started:
Table Toppers are great for bar areas or side tables that are not used in daily activities or when entertaining. Combine pumpkins (real or faux) with succulents, pine cones and moss to create a beautiful eye-catching arrangement that will endure most of the fall season outdoors.
Pillows, Pillows, Pillows – Accent your patio furniture with pillows in warm fall colors. This will you're your space comfortable and entice company to stay a little longer. Include patterns and solids to create variety and depth. You can DIY with seasonal words and embellishments as well. One our favorite things to do is find pillow covers. You can invest in inserts and switch out your covers for every season that fold away and store far easier than multiple different holiday pillows.
Candles! Here in Central Florida temperatures are still mild for most of the season. While we all enjoy that roaring fire, it might be a little much until we get our occasional freeze watch. Until then, you can use candles to provide the same warmth and ambiance to your Central Florida patio. Flameless candles have come a long way and can add just the right touch without the worry of flame or the mess of wax. Use these in fireplaces and fire pits, lanterns and chandeliers to bring that warm glow to your fall outdoor oasis.
Let the Leaves Fall! Although our Orlando Landscaping area doesn't allow for much of the color changes of the season, it is easy to bring the feel to your patio. Faux Fall leaves are available in bunches from around $5 to $20 and are a wonderful addition to your patio. You can use them to create a garland around doorways, attach to string lighting overhead with simple clips or simply scatter about on tables and around door frames on the ground. If they blow around, it will just add to the feeling of the fall season.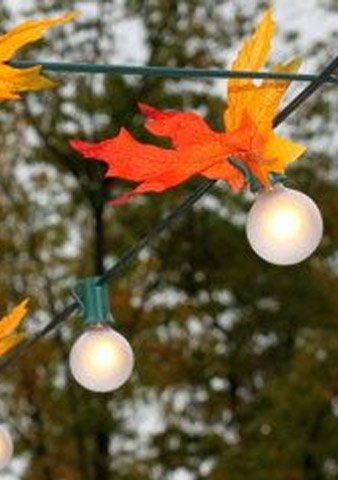 Hay! Get Corny! Using hay bales and corn stalks is a cheap and easy way to add a touch of fall to any area. You can bring the harvest to your patio by creating corners decorated with corn stalks, pumpkins and hay bales topped with bright mums and fall leaf garland. You can also create great seating areas all around your yard with hay bales. Some great tips for seating is to combine hay bales and rocking chairs on the patio in groups of 3 or 4 or create a circle of hay bales around your fire pit in the backyard for making those delicious smores. You can use the hay later to prep for your garden.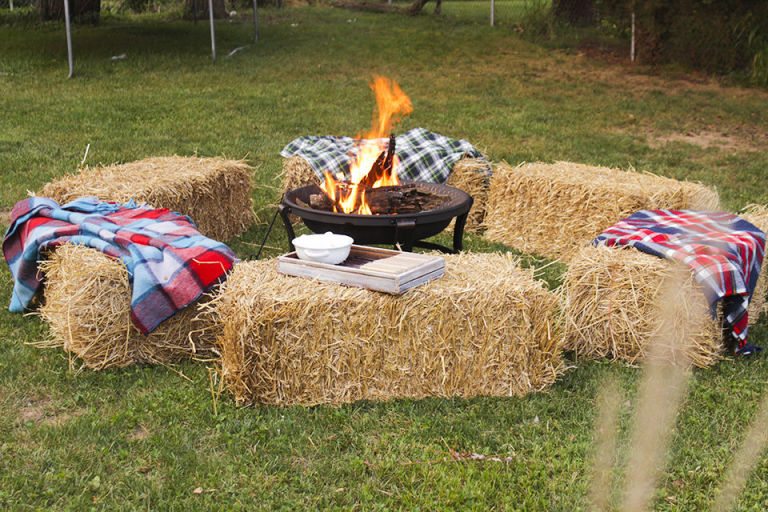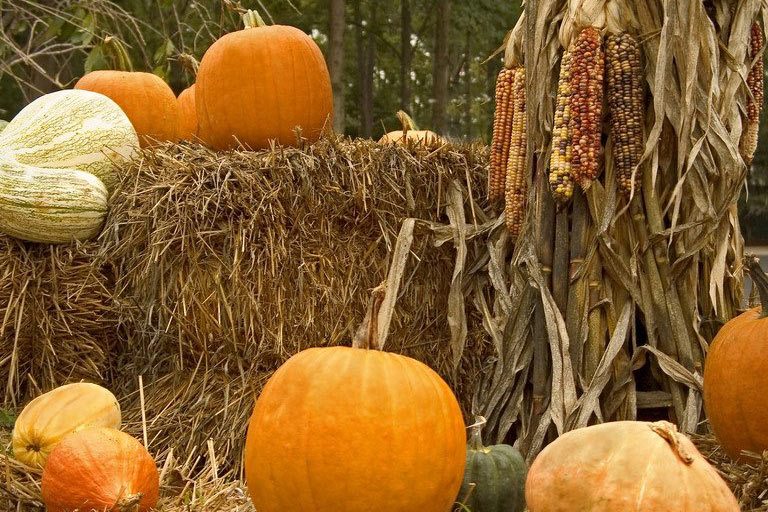 Wrap them Up! Keep blankets around outdoors for your guests to snuggle in when it gets chilly. This will prolong your time to enjoy outside instead of sending everyone inside away from the cold. Mix flannels and solids, rolled in a basket and thrown over various furnishings is inviting enough for everyone to get cozy and spend more time enjoying the weather and the company. This is especially great around that fire pit while sitting on hay bales roasting s'mores!
Pumpkin Planters are a great way to use those pumpkins. Sometimes plain gourds are just, well plain. This is one of my favorite ideas from HGTV. Instead of carving a jack-o-lantern, carve a pumpkin planter. Cut off the top, scoop out the inside. But instead of carving a scary face, fill with soil and plant or insert a potted plant and trim with cloth, tissue or burlap to create a planter that will have everyone commenting on just how clever you are!
Illuminate your patio and backyard with lights as the days grow shorter. Adding some twinkling fairy lights to distant shrubs, around tree branches or to edge your patio will encourage longer lingering outdoors when the sun goes down early.
Add the Fire!  A fire pit is a great hardscape addition to your backyard for those especially chilly nights so you can entertain and enjoy your backyard oasis all year round!  Getting a custom built Florida patio may not be as expensive as you think! Consult your local landscaper to design a firepit that fits your yard and budget.